Aural Pleasure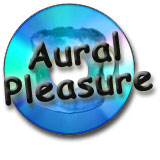 Good evening pop pickers. You have arrived at "Aural Pleasure", the home of all things musical, and the best place to find good honest reviews of all the latest LPs worth listening to.
Please note a couple of points: firstly, yes, only 'proper' music will be reviewed, at least in the main 'new' albums section. Shite like Britney Spears, N'Synch and Backpassage Boys will *not* be touched with either of the office bargepoles. Secondly, my format of choice is Vinyl - like it or lump it, so don't complain if I say the artwork on the sleeve is lavish and you're all squinting at your horrid little CD inserts. I can't say the same for my associates though, who all love CDs. I suppose they take up less space in the bin (the CDs that is, not my associates).
Coming very soon is the Vinyl deBasement, a look at overlooked classics, blasts from the past and forgotten efforts from forgotten artists. Some of these of course will prove to be best left forgotten, but never mind. Any requests should be directed to seantheirishbastard@drinkfromthefurrycup.com.
If you're annoyed by the small number of reviews of new stuff, well that's because we can only review albums we've heard, and at the moment this means we have to go and buy them ourselves. If you want more reviews, then help us to persuade the record companies to send us promotional copies. If you represent a record company, get in touch with us at the above address.
That's it for now, happy listening and enjoy the Aural...